RSS Feeds
RSS feeds can deliver the latest InfoLab21 news and events direct to your browser without you having to visit the website.
In most browsers you can click on an RSS link and choose to subscribe to the feed to add it to your favourites or bookmarks.
---
InfoLab21 Company Signs With 'Invest In Brussels'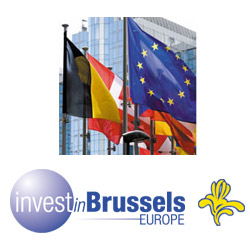 Kinetic Cubed, a resident company of InfoLab21, has signed a deal with the Invest in Brussels agency to help attract inward investment from the UK into the Brussels City region.
The deal further increases the InfoLab21 and Northwest based company's presence in Europe and represents a significant new business opportunity to work intensively with Invest in Brussels to attract UK based ICT companies and organisations looking to expand into the Brussels and European market.
Director Mark Beresford highlights three key reasons why UK ICT companies should consider Brussels as a cost effective location to base their operations from:
Brussels is home to many major global blue chip corporations and also provides a relatively low cost gateway to new business opportunities in the wider Benelux and European markets
Brussels is unique in assembling many of the key economic and political decision makers from important institutions such as the EU, NATO, NGOs, and think tanks
Brussels has a track record of being one of the most innovative places in Europe to do business. Sectors such as Professional and Financial Services, ICT, Healthcare / Bio and Energy and Environment are highly developed
Mark says; "The ICT sector is extremely dynamic in Brussels, generating about one-third of Belgium's global ICT activities. This upward trend is bolstered by a series of favorable elements such as: a strong demand in the local market, a close collaboration between businesses and academia, a high concentration of ICT activities in a small area and the complete, proactive support of regional authorities."
Recent examples of ICT companies that have taken advantage of the business opportunities that Brussels can provide include:
An ICT consultancy serving major corporations with international communications networks
A company that develops and markets software tools that help organizations to reduce costs, save time and successfully manage their IT networks from beginning to end
A global company providing customised enterprise solutions with expertise in private networks, global Tier-1 Internet backbone and related ICT solutions to enterprises worldwide
A major player in the provision of threat detection and screening technologies for Military, Transportation, Homeland Security and Resilience applications
In addition, Invest in Brussels can provide UK ICT companies and organisations that have the intention to set up in the city with incubator facilities for the first three months, help with business and financial plans, risk assessments, marketing and services support, and will provide the new venture with an important platform for launching the business.
For further information on how Kinetic Cubed can help you set up in Brussels, please call Bill Jones on 07788 917934 or email bjones@kinetic3.co.uk.
Thu 26 November 2009
Associated Links
Tweet