RSS Feeds
RSS feeds can deliver the latest InfoLab21 news and events direct to your browser without you having to visit the website.
In most browsers you can click on an RSS link and choose to subscribe to the feed to add it to your favourites or bookmarks.
---
Lancaster Sweeps the Board at Middleware Conference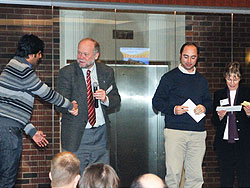 Rajiv Ramdhany, a research associate at InfoLab21 is pleased to have been awarded the best paper award at the ACM/ IFIP USENIX International Middleware Conference.
Rajiv's paper, co-authored by Geoff Coulson, David Hutchison and Paul Grace, was on "MANETKit: supporting the Dynamic Deployment and Reconfiguration of Ad-Hoc Routing Protocols".
To mark the 10th instance of the event, the conference also awarded a prize for the most influential paper from the first conference, held in 1998. This award was also given to a paper from Lancaster, 'An Architecture for Next Generation Middleware' authored by Gordon Blair, Geoff Coulson, Philippe Robin and Michael Papathomas.
Prof. Gordon Blair commented, "This is a terrific recognition of the research in middleware carried out at Lancaster with it being particularly pleasing that we are recognised both for impact of work from the past and also for the continuing excellence of our research in this area today."
Middleware '09 was held in Urbana-Champaign, Illinois.
Tue 26 January 2010
Associated Links
Middleware 2009 - ACM/IFIP/USENIX 10th International Middleware Conference, Urbana Champaign, Illinois, USA (November 30 - December 4, 2009)
Tweet