RSS Feeds
RSS feeds can deliver the latest InfoLab21 news and events direct to your browser without you having to visit the website.
In most browsers you can click on an RSS link and choose to subscribe to the feed to add it to your favourites or bookmarks.
---
Kinetic Cubed Wins Major BA Travel Grant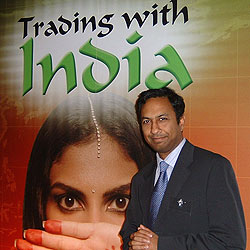 A north west international business development consultancy based at InfoLab21 has won a prize that includes twelve Club World (business class) return flights to anywhere on the BA global network.
The prize is estimated to be worth £50,000 to Kinetic Cubed.
Kinetic Cubed was one of 4500 companies who entered the competition held by British Airways and its partners. The company were one of a hundred winners to be awarded a 'Business Travel Grant' prize.
Tony Aggarwal, Director of Kinetic Cubed said "We are delighted to have won this valuable prize, which apart from recognising our ability, will allow us to fuel our growth, doubling our business size within the next two years.
"With the travel grant, we will be able to add to our growing portfolio of non-UK clients, by expanding our client reach into the Americas and the Far East".
Kinetic Cubed Limited was established in 2005 in Manchester and has since expanded by creating offices in India and Brazil. The company growth in 2009 was 42%, most of which came from the export of consulting services. Exports now account for 50% of revenues.
BA partners include: Regus; American Express and The Daily Telegraph. The 'On Business Travel Grant' prize consists of:
12 BA return business class flights anywhere on the BA global route network
5 AKE containers air freight containers on the BA network
4 Corporate AMEX cards
5 Regus Businessworld gold cards
1 annual subscription to The Daily Telegraph
This was a national competition held in Autumn 2009, with a limited number of 'On Business Travel Grants' to be awarded.
To enter the competition, SMEs were required to describe the scope of their companies' operations, outline their goals and objectives for 2010 and detail how the opportunity and continuity of business travel for a year would benefit the business.
They also had to give a specific business objective that a face-to-face meeting could help them achieve that would not be possible through remote communications, such as a telephone or video-conference conversation.
Thu 04 February 2010
Tweet