RSS Feeds
RSS feeds can deliver the latest InfoLab21 news and events direct to your browser without you having to visit the website.
In most browsers you can click on an RSS link and choose to subscribe to the feed to add it to your favourites or bookmarks.
---
£70,000 Technology Showcase Could Help SMEs Beat Recession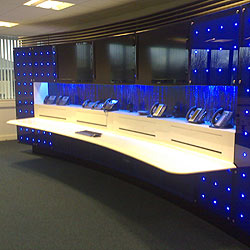 A £70,000 state-of-the-art technology showcase has been opened to help small businesses across Lancashire and Cumbria gain a competitive edge and boost sales during the economic upturn.
The showcase - one of the first of its kind in the area - is the brainchild of Roy McPhail, Michael Morrison and Tom Platt, managing directors of the BT Local Business for Lancashire and Cumbria.
The centrepiece of the showcase at the company's offices in Fulwood is an impressive video conferencing suite, which enables up to 15 people to take part in 'face to face' meetings with colleagues or customers around the UK - or worldwide.
The initiative has been welcomed by InfoLab21 as an important boost for the region's small businesses during the economic upturn.
Colin McLaughlin, Technology Transfer Manager at InfoLab21 stated, "The opening of this innovative and impressive showcase is extremely timely as firms across Lancashire and Cumbria look to secure new customers. We are very pleased that our InfoLab21 Associate Companies can take advantage of the benefits offered by the latest developments in communications technology."
Roy said, "The recent bad weather and the desire of many firms to reduce their carbon footprint, will, we believe, encourage local businesses to consider videoconferencing as a viable alternative to long and often unnecessary journeys."
As well as the videoconferencing suite, the showcase includes a range of the latest mobile communications and switchboard systems, as well as software applications and IT support and maintenance equipment.
Steve McQueen, Managing Director of Converge Communications, who normally travels to London once a month, was one of the first businessmen to benefit from the videoconferencing.
He said, "Travelling to London every month has significant costs - in both time and travel - for the business and myself.
"I've considered using videoconferencing in the past, but I've never had the opportunity until now. It certainly allows me to manage my commitments as well as my time more effectively."
To coincide with the opening of the showcase, the BT Local Business is offering free two-hour videoconferencing sessions to the first 200 companies in Lancashire and Cumbria who get in touch and express an interest in wanting to try out the new technology.
Any businesses wanting more information about the showcase should ring Max Griffiths on 07760767049 or email max.griffiths@btlocalbusiness.co.uk.
The BT Local Business is based at Digital House, Fairways Office Park, Pittman Way, Fulwood, Preston, and provides communications solutions for up to 80,000 SMEs across Lancashire and Cumbria.
Thu 25 March 2010
Associated Links
Tweet