RSS Feeds
RSS feeds can deliver the latest InfoLab21 news and events direct to your browser without you having to visit the website.
In most browsers you can click on an RSS link and choose to subscribe to the feed to add it to your favourites or bookmarks.
---
Northwest Company Introduces New GIS Service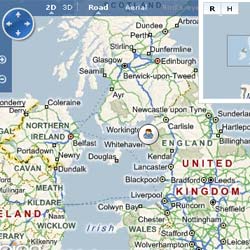 InfoLab21 Associate Company, Business Logic, has introduced new holistic geographic information system (GIS), PointAt.
Supporting the innovation and technology sector, the new service combines existing mapping and building design meta-data (CAD) to provide an online 3D indoor and 2D outdoor positioning and tracking application.
Business Director, Lee Conroy said,
"Our hope for PointAT is that it will encourage the innovation process, allowing inventors and specialists to concentrate on their core skills and not be hindered with the development of expensive and complicated UI platforms for demonstration.
"No longer are investors willing to invest in concept, requiring demonstration. The mission is to facilitate the development of an assortment of investment ready innovations and products for the UK."
Business Logic are based in Lancaster and have strong links with the high-tech community.
For more information about the new PointAt system please go to the website below.
Mon 29 March 2010
Tweet