RSS Feeds
RSS feeds can deliver the latest InfoLab21 news and events direct to your browser without you having to visit the website.
In most browsers you can click on an RSS link and choose to subscribe to the feed to add it to your favourites or bookmarks.
---
Integrated Micro and Nano Systems
Mon 01 - Thu 04 October 2007
Lancaster House Hotel, Lancaster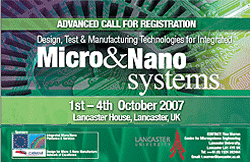 Design, Test and Manufacturing Technologies for Integrated Micro and Nano Systems. A European network of Excellence sponsored event at Lancaster University.
A 4 day event showcasing technical advances in the field of Micro and Nano Systems Engineering through the European Network of Excellence in Design for Micro and Nano Manufacture and related programs.
The event will also address technology access, services and opportunities in the field for small and medium sized industry and provide larger, user companies with a forum to assess advances in the field and opportunities for uptake.
Day 1: 1st October 2007 (FREE EVENT)
Micro and Nano Systems - A new Technology for a new Industrial era.
An outreach day identifying UK capability and facilities,core technologies and access mechanisms across Europe, engineering services, support associations and networks, case studies and new funding initiatives including FP7 and DTI based.
Day 2: 2nd October 2007
Business Development and Industrial Challenges
An education and dissemination day focusing on building business activities that either utilise or target Micro and Nano Systems. Will include tutorials on commercialisation and supply chains, reliability engineering and test. Will showcase new intellectual property developments, methodologies for Micro and Nano Systems design and manufacture, engineering services and demonstrator projects.
Day 3 and 4: 3rd - 4th October 2007
Collaborative Research and Industrialisation
Technical days focusing on state-of-the-art in design and manufacturing technologies for Micro and Nano based systems. Will present key advances in reliability and test engineering, packaging technologies and system integration together with contributions from the design automation, simulation and modelling communities.
Registrations and Details
To register please complete the registration
form available on-line at: