RSS Feeds
RSS feeds can deliver the latest InfoLab21 news and events direct to your browser without you having to visit the website.
In most browsers you can click on an RSS link and choose to subscribe to the feed to add it to your favourites or bookmarks.
---
Technology Matters - Partnering for Innovation & Growing in a Global Recession
Thursday 26 March 2009, 0900-1530
Lancaster House Hotel, Lancaster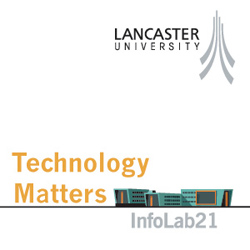 A Digital Communications KTN event delivered in association with InfoLab21's Technology Matters events.
Please join the Digital Communications Knowledge Transfer Network (DC-KTN) and InfoLab21 for an event looking at Collaborative Funding and Partnering opportunities in the Digital & Creative Industries Sector.
Please note change of venue. This event will now take place at Lancaster House Hotel instead of InfoLab21 to allow for the higher attendance level expected. For directions please see the link at the bottom of this page.
Following a welcome from InfoLab21 and the DC-KTN, there will be an introduction to the Creative Industries Technology and Innovation Network and then a practical workshop from the Technology Strategy Board (TSB) to look at helping SMEs apply for TSB Collaborative R&D Funding.
In addition to referencing the funding programmes and mechanisms through which the TSB seeks to drive innovation in the UK, this event will give reference to the 'Accessing and Commercialising Content in a Digitally Connected World' call for funding applications, to be publically announced on March 16th.
Northwest Vision and Media will be providing information on their Regional Attraction and Venture Capital loan funds and after lunch, in partnership with Business Link Northwest will be delivering a panel session focusing on enabling growth in a global recession. This hour-long session will provide tips, advice and practical solutions from key players in the public sector to creative and digital companies to give your business the edge during recession.
To register to attend both sessions (Partnering for Innovation Workshop and Beat the Recession event) please click on the following link:
To register to attend just the morning session Partnering for Innovation Workshop please click on the following link:
To register to attend just the afternoon session ('Beat the Recession' event)please click on the following link:
Registration and attendance is free, but space is strictly limited.
The Digital Communications Knowledge Transfer Network has been established by an industry-led group of leading players, with funding from the Technology Strategy Board. It seeks to bring competitive advantage to the UK by promoting collaboration and knowledge sharing between the users and providers of Digital Communications, and helping to drive innovation in the sector.
If you have any problems registering via the links above please contact Sarah Maginness s.maginness@lancaster.ac.uk
Please see the attached flyer for the full agenda. Morning coffee and a Buffet Lunch will be provided.
Event sponsors
Digital Communications Knowledge Transfer Network
North West Vision and Media