RSS Feeds
RSS feeds can deliver the latest InfoLab21 news and events direct to your browser without you having to visit the website.
In most browsers you can click on an RSS link and choose to subscribe to the feed to add it to your favourites or bookmarks.
---
Savant wins Intellect Business Professional Certification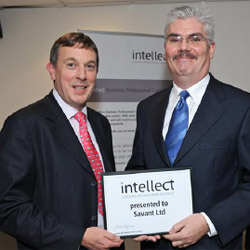 Savant Limited, an associate company of InfoLab21, has been awarded the Intellect Business Professional Certificate - a recognised marker of quality and professionalism.
Developed by Intellect, the UK trade association for the IT, telecoms and electronics industries, the Business Professional Certificate demonstrates professionalism and commitment to quality across a company's operations.
"We are delighted to recognise the work of Savant Limited by awarding them the Intellect Business Professional Certificate. The processes in place meet the challenging standards and we have been impressed by the company's enthusiasm and commitment to see opportunities to improve." says John Higgins CBE, Director of Intellect.
The Intellect Business Professional Certificate was created by business people who are already developing and sharing best practice and who are motivated to improve their own standards and supporting the reputation of the industry. It is an assurance of professionalism to clients that want to work with suppliers committed to attaining high standards.
Savant's Business Development Manager, Glyn Jones explains: "We are very pleased to have our approach to running Savant recognised in this way by Intellect. The Business Professional Certificate uses a set of contemporary criteria to assess an organisation and we feel it reflects well on our strategy. Having this award recognised by potential clients will help in our prospecting for new contracts".
The scheme covers ten components: Information Security Policy, Business Continuity, Project Management, Proposal Review, Customer Care, Corporate and Social Responsibility, Human Resources, Customer References, Professional Indemnity and Escrow provision.
Tue 21 December 2010
Associated Links
Savant - Savant Limited develops innovative software solutions that meet the business goals of their clients.
Tweet