RSS Feeds
RSS feeds can deliver the latest InfoLab21 news and events direct to your browser without you having to visit the website.
In most browsers you can click on an RSS link and choose to subscribe to the feed to add it to your favourites or bookmarks.
---
Strategic partnership set to help plug cyber security skills gap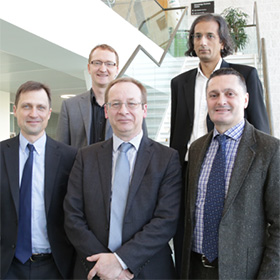 Lancaster University and Raytheon UK has agreed a strategic partnership that will deliver talented and skilled cyber security professionals to help protect the UK economy.
The agreement was signed at a special ceremony held at Lancaster University's InfoLab21 facility, which houses the university's School of Computing and cyber security academics from Security Lancaster (the university's security research centre, which is recognised as a Centre of Excellence in Cyber Security Research by GCHQ and the EPSRC).
The agreement includes an investment of £65k for the first year with additional funding over the following years to a total of £150k. This funding will support a long term programme of two PhD students delivering a doctoral research programme as part of the Government's Cyber Invest Scheme. The programme will look at future security issues associated with the 'Internet of Things' and 'industrial control systems'. Raytheon are also funding three bursaries a year to enable students to study for Lancaster's Master's degree in Cyber security over the next three years.
Sitting alongside the full time students will be part time students from Raytheon integrating Lancaster's PhD programme as part of Raytheon's Distinguished Engineers programme.
The agreement builds on previous partnership working between Lancaster University and Raytheon, including: joint participation in the first cyber security camp run by the Cyber Security Challenge UK in 2012; joint participation in events with Government ministers; and Raytheon has supported a number of Lancaster research projects including PETRAS (privacy, ethics, trust, reliability, acceptability, and security of the Internet of Things) and MUMBA (Multi-faceted Metrics for ICS Business Risk Analysis) and have sponsored MSc students in both Data Science and Cyber Security disciplines.
Professor Awais Rashid, Director of Security Lancaster, said: "A thriving economy needs strong security and this also applies to the cyber sphere. Our partnership with Raytheon will help us to train skilled cyber security professionals and enable us to undertake cutting-edge research to counter the growing threat of cyber crime."
Professor Peter Atkinson, Dean of the Faculty of Science and Technology at Lancaster University, said: "Lancaster University is at the forefront of helping supply graduates equipped with the relevant skills, and experience and investments such as this from leading companies like Raytheon are a significant step towards helping to meet future industry demands."
Raytheon UK is signed up to the Government's Cyber Invest and Cyber First initiatives, which aim to raise the UK's skills and research in the field of cyber security and are supported by GCHQ as part of the National Cyber Security Strategy and the National Cyber Security Centre.
Managing director, Intelligence and Security at Raytheon UK, Rob Crook, said: "The UK needs more cyber specialists and I am delighted to cement our relationship with the University of Lancaster. Raytheon's sponsorship of the Cyber Security Challenge for the past four years, has focused on supporting schools with cyber programmes. This partnership aims to build awareness of cyber careers, narrow the talent gap and ensure the UK is equipped to tackle future cyber threats."
Cat Smith, MP for Lancaster and Fleetwood and Shadow Minister for Youth, said: "As our economy continues to adapt to the challenges of the 21st Century, cyber security will become more and more important. It is therefore extremely encouraging to see the growth of cyber talent in the UK.
"I am delighted that students from Lancaster University are playing their part in addressing one of the biggest challenges that we will face as a country going forward. I wish the partnership between Lancaster University and Raytheon every success in the years to come."
Mon 09 January 2017
Tweet