RSS Feeds
RSS feeds can deliver the latest InfoLab21 news and events direct to your browser without you having to visit the website.
In most browsers you can click on an RSS link and choose to subscribe to the feed to add it to your favourites or bookmarks.
---
InfoLabTree: Discover the Story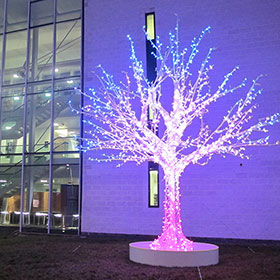 The first of a series of new installations has been revealed outside InfoLab21. The iString Light Tree #InfoLabTree is an installation donated by MK Illuminations, collaborative partners on Project Firefly, led by Dr Joe Finney, School of Computing and Communications.
Project Firefly started with the idea of giving fairy lights a 'technological upgrade' to create a world where every light source has an integrated computer, capable of self-organising with its neighbours to form two- and three-dimensional ad hoc displays.
With funding from the e-Campus project, a major initiative at Lancaster University which explored new public display technologies and their applications, Professor Alan Dix and Dr Joe Finney tested their concept. They applied computing concepts to display technology and developed and improved a series of prototype smart lighting devices, capable of communication and self-organising behaviour, scalability to enable the interoperation of thousands of such devices, and calibrated the devices to form coherent 2D/3D displays.
Visit the MK Illumination website
Key Features of Firefly
Each light contains a miniature computer making them individually controllable
Patterns and effects are much easier to create, and can be far more intricate and dynamic than those currently available
Can be hung in any order, anywhere, in any configuration
Lights can calculate for themselves where they have been placed in relation to each other
Random collection of lights can be turned into a structured 2D, or even 3D, display
Requires fewer cables than current systems
They realised that as well as being fun, the technology had great commercial promise, and that the lights could revolutionise lighting display, holding great potential for advertisers.
Supported by the School's Business Partnerships staff and the Intellectual Property Manager, a commercial partner was found to develop the technology further.
The installation at InfoLab21 is one of a series of global installations harnessing the iString Lite technology that has evolved from the initial firefly concept.
Potential application domains for this technology, ranging from art installations in malls and hotels, architectural and festive lighting, and ad hoc deployments in public places, such as stadiums, interactive exhibits, miniaturized 'holographic' displays, smart environments, and ubiquitous computing.
There are 3560 lights on the tree that can be controlled individually by a computer programme. At the moment the tree is showing a randomly generated colour display, but watch out over the next few weeks for changes to the tree and ways to interact with it.
Tue 29 November 2016
Tweet