RSS Feeds
RSS feeds can deliver the latest InfoLab21 news and events direct to your browser without you having to visit the website.
In most browsers you can click on an RSS link and choose to subscribe to the feed to add it to your favourites or bookmarks.
---
Bruch Bytes: 'Food For Thought'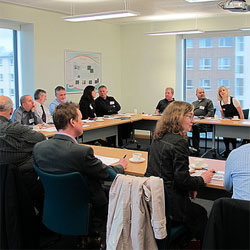 flickr page."/>
The latest Brunch Bytes Briefing took place in InfoLab21 on 7th April. Thank you to all who attended and to Dr Paul Coulton who presented on "Next Steps In Social Media".
Feedback from the session included:
"I feel events such as these add value to organisations who are busy with their day to day activities. New learning and insights is always welcome. Keep the good work going." Rony Ghosh, Global M edia Connect Ltd.
"Thought provoking event, had me thinking of a related type of game to the company." Nick Race, Woods of Morecambe
"Very well presented - great slides that helped my understanding of the topic. It's given me a development idea! Lots of food for thought-thanks!" Anon
"Excellent!" Anon
Carolyn Hayes, Project and Events Coordinator at InfoLab21 said,
"Thank you to all who have signed up for our Brunch Bytes breifings. We are delighted that these events are being so well attended and look forward to seeing you at the upcoming events."
Mon 18 April 2011
Associated Links
Brunch Bytes - InfoLab21's programme of technology briefings
Tweet