RSS Feeds
RSS feeds can deliver the latest InfoLab21 news and events direct to your browser without you having to visit the website.
In most browsers you can click on an RSS link and choose to subscribe to the feed to add it to your favourites or bookmarks.
---
Aeroflex endows £1m wireless broadband laboratory in InfoLab21
Story supplied by LU Press Office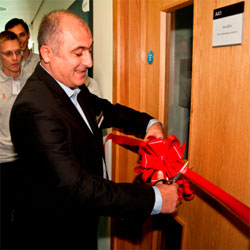 Aeroflex Limited and Lancaster University announced today the inauguration of the Aeroflex Wireless Broadband Laboratory in the University's School of Computing and Communications at InfoLab21.
The new laboratory is equipped with just over £1 million worth of test equipment donated by Aeroflex, a leading US-headquartered technology company with a large R&D and manufacturing facility in Stevenage, UK.
The Aeroflex laboratory will enable Lancaster University to play a leading role in the development of the next generation of wireless broadband networks and user equipment, such as smartphones, tablet PCs and future mobile devices. The 4th Generation (4G) cellular networks that are being developed will offer the user dramatically higher download speeds than those currently available from either residential wired or 3G wireless broadband services.
Aeroflex, a wholly owned subsidiary of Aeroflex Holding Corp, already has a longstanding relationship with Lancaster University. The company has provided financial support and work placements for postgraduate students taking MSc course in Wireless Communications, who have subsequently been employed by Aeroflex at its Stevenage facility. Members of Aeroflex staff regularly contribute to the lecture programme, and the company continues to offer placements to the students on an ongoing basis.
Professor Garik Markarian, an internationally renowned expert on communications technology, is leading the research in the School of Computing and Communications at InfoLab21, along with his team members Dr Phil Benachour, Dr Hassan Ahmed and Dr Ioannis Chatzigeorgiou.
"We are very grateful to Aeroflex for their generous donation. The new Wireless Broadband Laboratory provides Lancaster University with a state-of-the-art suite of test equipment to design, test and verify different protocols and algorithms for LTE-Advanced 4G wireless devices and systems, giving us total flexibility to develop the best system," said Professor Garik Markarian, who holds the Chair of Communications Systems at Lancaster University.
"Our strong links with industry, including those with Aeroflex, have contributed to the University's worldwide reputation in this field, and the skills that they learn here mean that our graduates are very much in demand in their future careers."
"Aeroflex has a firm commitment to supporting academic research. This is the latest step in our ongoing programme of assisting universities who are at the forefront of wireless technology to help nurture the talented engineers that the industry will need to be competitive in the future," added Dr. Hayk Manukyan, technical product manager and head of collaborations with Universities at Aeroflex.
"We are delighted to be able to assist Lancaster University, both by donating the equipment to the new laboratory and by sponsoring postgraduate students there, and we look forward to reaping the mutual benefits of this partnership in the future."
Thu 15 September 2011
Associated Links
Aeroflex Corporation - a leading worldwide provider of highly specialized test and measurement equipment and microelectronic solutions
School of Computing and Communications - a multi-million pound centre for study and research in the fields of computer science, ICT and communications engineering
Tweet