RSS Feeds
RSS feeds can deliver the latest InfoLab21 news and events direct to your browser without you having to visit the website.
In most browsers you can click on an RSS link and choose to subscribe to the feed to add it to your favourites or bookmarks.
---
Black Zest is Enterprise Vision Awards Finalist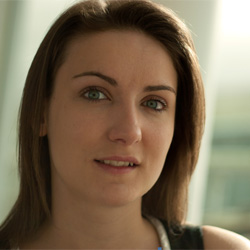 InfoLab21 resident and Director of Black Zest Solutions, Sarah Cooper, has earned herself a place in the final lineup for two categories in The Enterprise Vision Awards 2012, an annual ceremony run by Pink Link Ladies, aimed at celebrating the success of Lancashire women in business.
Sarah is a finalist for Inspirational Women and New Business of the Year. Having been nominated by an anonymous individual, she thanks them and all the people voting for her for their support,
"I am delighted to have just been nominated but to have reached the final is such an honor. I would like to thank whoever nominated me, for giving me this opportunity."
To vote for Black Zest Solutions to secure their victory visit www.enterprisevisionawards.co.uk and vote in the New Business and Inspirational Woman of the Year categories.
Judging Sarah's entry will be a panel of local business men and women from across the North West, their score combined with online voting which starts on 30th July will decide her fate. The awards will be held on 14th September at Ribby Hall Village, where the winners will be announced on the night.
Sarah, a mother of 2 from Lancaster, was recently names as one of the 'Top 100 Mumpreneurs of the UK'. She set up Black Zest Solutions, a marketing and design business, in September 2010 to provide a stable future for her family and she has fought over the past 2 years to grow the business to a sufficient level to do this. One of the reasons for the nomination to Inspirational Woman of the Year was her drive to give something back to the local community.
She has enjoyed supporting local students by offering a free workshop at Lancaster University and mentoring students through the coffee with an entrepreneur event at LUSU Involve. Jon Powell, Enterprise Champion and Enterprise Team Manager at Lancaster University commented,
"Sarah has been an indispensable asset, giving our students and graduates invaluable advice and guidance both in terms of inspiring them to set up their own business but specifically on how they can promote their business using social media and emerging technologies."
Black Zest Solutions aims at providing strategic marketing consultancy, idea generation and graphic design solutions. To find out more, please visit Sarah's website www.blackzestsolutions.co.uk or call 01524 510495.
Tue 31 July 2012
Associated Links
Tweet