RSS Feeds
RSS feeds can deliver the latest InfoLab21 news and events direct to your browser without you having to visit the website.
In most browsers you can click on an RSS link and choose to subscribe to the feed to add it to your favourites or bookmarks.
---
BlogSpot: Is there a need for a mobile website?
David Forrest
About the author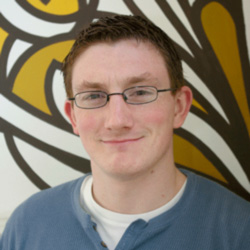 David Forrest, from Workshop Media looks at the key issues when considering whether you need a mobile website.
One of the most important aspects of operating a website for a business is making sure that it can be viewed by as many people as possible.
In many instances when developing a new site, mobile use and compatibility is still seen as an optional extra or an unnecessary add on. However a recent report by Kantar ComTech (Guardian Article) shows that over half of the mobile phones in use in the UK are in fact smartphones, which are web capable. Web users and prospective clients are expecting to be able to view a site on whatever device they are using, whether that be their desktop, iPhone or tablet.
Knowing the limitations of mobile devices
Mobile devices are versatile and are being enhanced with every generation to give a better web experience but they all still carry some basic limitations on how visitors experience the web and how they view your website.
Mobile Screen Size - My own phone has a 3.7" screen with a display of 480 x 800 pixels, not a bad display but not very useful when viewing a large website with plenty of graphics and formatting like sidebars and menu bars.
Connection Speed - A browsing experience is only as good as the internet connection. With UK internet connection speeds still relatively low compared to the rest of the developed world it's important that a website is lightweight and so loads quickly, especially mobile versions.
Compatibility - Flash is not guaranteed to work on a mobile device and is famously incompatible with Apple mobile products such as iPhone and iPad. Relying on this technique for key parts of a site such as calls to action can be a critical error.
There are many other limitations but the critical factor is that a mobile device may not display your website correctly or it may not be as functional as on a desktop, the result being that the visitor is not going to get an optimised experience - critically for business there is a lower chance on a conversion from visit to sale. In the UK £1 in every £10 spent online is done so via a mobile device not a traditional desktop, so it's important to overcome the limitations of mobile web use and luckily there are many options for doing so.
Finding a mobile website solution
In our case (Workshop Media is a WordPress site) we installed software and a mobile specific WordPress theme to automatically detect a mobile visitor and deliver a mobile version of the website using the same content at the standard site.
The key enhancements to our mobile website experience include:
The width of the site is adapted to the size of the screen of the mobile device and will change depending on whether the visitor holds the device portrait or landscape, the content is also presented in a vertical scroll only layout to aid navigation - flexible yet perfectly suiting the smaller screen sizes of smartphones and tablets.
The Menu has been replaced with a tap-to-display drop down menu and all pictures have been replaced with smaller scaled versions of those found on the original site which saves screen space as well as loading time.
The mobile theme displays all necessary pages as well as contact forms and blog posts using lightweight graphics and formatting resulting in a speedy load time when using a Wi-Fi or mobile internet connection.
Importantly for Workshop as a video marketing company, our video content is displayed as YouTube thumbnails and can be played in browser via YouTube or on the YouTube App on an Apple mobile device.
The mobile website takes advantage of the fact that the mobile device being used to view the site my be a phone and prominently displays our phone number at the bottom of every page which when tapped it will launch the phone app.
Mobile future
Of course there is no way to say for sure that your mobile website will work on every device now and in the future. But if you are taking you online presence seriously, you should be updating your website frequently anyway. The days of a site just sitting there and businesses expecting it to do the work for them to generate leads and sales have been gone for a long while now. It's a game of continuous content generation and continual development to make sure that your message stays reliant and your content stays accessible.
Please comment below and feel free to let us know what you think of our mobile website. We would be happy to hear from you.
Lancaster University cannot be held responsible for any activity by its Association Members. We display information from InfoLab21 Associate Companies on our site and we are not responsible for the content or privacy polices of InfoLab21 Associate Companies' sites, nor for the way in which information about them is treated.
Tue 31 July 2012
Tweet