RSS Feeds
RSS feeds can deliver the latest InfoLab21 news and events direct to your browser without you having to visit the website.
In most browsers you can click on an RSS link and choose to subscribe to the feed to add it to your favourites or bookmarks.
---
Lancaster Lecturer Wins Best Paper at Social Computing Conference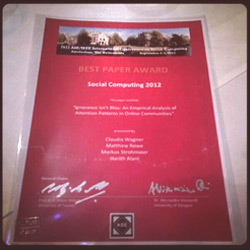 Dr Matthew Rowe, a Lecturer in Social Computing at the School of Computing and Communications has co-authored a paper that won the best paper prize at the ASE Conference on Social Computing in September.
The paper looks at how people can maximise attention to their posts on internet forums, from the community that uses that forum.
Dr Rowe explains;
"Everyone wants to attract attention to their content and motivate people to engage with what they have written and shared. This paper provides information on how to construct and adapt content such that it maximises its potential to gain attention from a given community forum. It is of use to content publishers, marketers, and brand managers, who are keen to maximise the engagement potential of their content."
The paper examines how different communities exhibit different patterns of attention and how attention to content in online communities can be predicted as a result. (Attention to content here refers to when a user replies to a post.)
The authors modelled various features related to a new forum post (information about the author such as his reputation in the community, the sentiment and informativeness of the post, and how well it fits the community) and showed how certain features were important in some communities while not being important in others.
The paper can be found at Ignorance isn't Bliss: An Empirical Analysis of Attention Patterns in Online Communities Authors: Claudia Wagner, Matthew Rowe, Markus Strohmaier and Harith Alani.
Fri 30 November 2012
Tweet