RSS Feeds
RSS feeds can deliver the latest InfoLab21 news and events direct to your browser without you having to visit the website.
In most browsers you can click on an RSS link and choose to subscribe to the feed to add it to your favourites or bookmarks.
---
Cyber security conference at Lancaster University
Story supplied by LU Press Office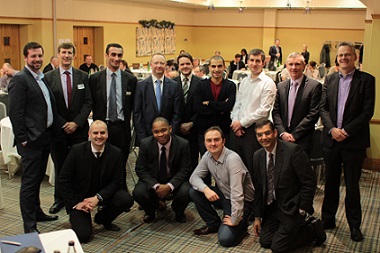 More than 80 business leaders and internet security experts came together at Lancaster University's annual cyber security conference on Monday.
CSC2013, held at the Lancaster House Hotel, aimed to get businesses to think about potential growth opportunities surrounding cyber-security rather than dwelling on the risks.
There was also a strong emphasis on two themes that are becoming increasingly prevalent in modern connected societies - the 'Internet of Things' and 'Smart Cities'.
Dr Daniel Prince, Associate Director and Business Partnerships Manager for Security Lancaster, said: "As more and more of our lives, and particularly as more of the surrounding infrastructure we rely on in the environments we live, become connected to the Internet, then it becomes even more important for individuals, businesses and organisations to ensure they are prepared to fend off attacks.
"However, this also leads to opportunities for businesses to create solutions to tackle these threats.
"We had a number of the UK's leading thinkers and experts in cyber-security, along with a wide range of business leaders, together discussing the importance of having robust cyber-security measures in place, as well as the business opportunities that are available through supplying cyber-security solutions."
The UK economy is heavily reliant on digital technology and this is set to increase with the advent of smart city technologies. The cyber threat is widely recognised with reports identifying threats to SME's on the increase; 87 per cent suffered a breach in the last year - the average cost of the worst incident being between £35k and £65k.
A recent report from BIS has shown that the UK cyber security market is one of the most buoyant. The UK market is estimated to be £2.8 billion in 2013 and is expected to grow to £3.4 billion in 2017.
The conference heard from experts including academics from Lancaster University's Security Lancaster - an EPSRC-GCHQ Academic Centre of Excellence in Cyber Security Research; senior police officers; officials from key Government departments including the Department of Business Innovation and Skills, and UK Trade and Investment.
Speakers at the conference included:
- Dr Daniel Prince - Security Lancaster
- Tony Dyhouse - ICT KTN
- Tony Wilson - Indelible Data
- Professor Awais Rashid - Security Lancaster
- Charles Jacobson - UK Trade and Investment
- Geoff Conway - National Crime Agency
- Austen Okonweze - Department for Business, Innovation and Skills
- Professor Nigel Davies - School of Computing and Communications
- Ibrahim Ethem Baqci - Security Lancaster
- Duncan Brown - Pierre Audoin Consultants (PAC) Ltd
- Tony Morgan - Superfast Lancashire
- Paul Astle - TNPLtd
- Steve Robinson - Xyone Cyber Security
- Professor Rashik Parmar - IBM
- Clare McDonald and Michael Pollock - The Lionheart Challenge
- Tom Cheesewright - Book of the Future
The conference was funded by Security Lancaster, the School of Computing and Communications, the ICT KTN and the Department for Business Innovation and Skills.
Tue 10 December 2013
Tweet