RSS Feeds
RSS feeds can deliver the latest InfoLab21 news and events direct to your browser without you having to visit the website.
In most browsers you can click on an RSS link and choose to subscribe to the feed to add it to your favourites or bookmarks.
---
Transfer computer files with your eyes
Story supplied by LU Press Office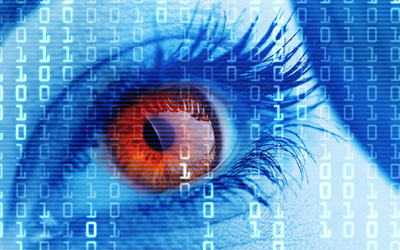 A new way of dragging and dropping files has been developed by a Lancaster University student.
A system called EyeDrop enables the user to move items on screen by gazing at the object through an eye tracker. This automatically selects the object which can then be transferred to a tablet or smart phone via the touchscreen.
The system relies on the two devices being connected wirelessly. It was developed by PhD student Jayson Turner at the School of Computing and Communications who said:
"It's very swift and smooth because I wanted to eliminate the unnecessary steps in the interaction and let people move things quickly and fluently.
"Selected content can contain metadata allowing it to be used for varying purposes. It's useful if, for example, you want to drag objects to an interactive map and plot a route. It will allow you to manipulate the object - like a photo - as you transfer it and share it."
He said there are still many issues to be overcome, including the problem of needing to wear eyetracker glasses to be able to use Eyedrop.
"But this could be overcome if instead, the gaze tracking technology was included within say a display so it lets you select and cut and paste an image being displayed. But that has privacy issues since not everyone would want this, so all this needs to be resolved at the same time the technology is being developed."
He presented his research at the Conference on Mobile and Ubiquitous Multimedia in Sweden.
Tue 07 January 2014
Tweet