RSS Feeds
RSS feeds can deliver the latest InfoLab21 news and events direct to your browser without you having to visit the website.
In most browsers you can click on an RSS link and choose to subscribe to the feed to add it to your favourites or bookmarks.
---
Lancaster spin-out company adapts crime-fighting tech to the marketing world
Story supplied by LU Press Office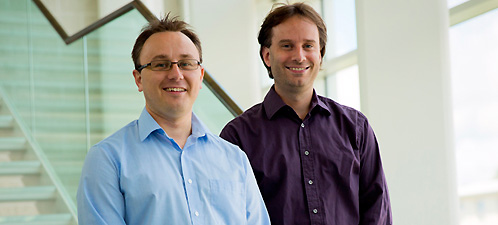 A company established at Lancaster University to commercialise crime-fighting technology is set to revolutionise the marketing industry.
Relative Insight has adapted technology originally developed for the detection of criminals online to help businesses better co-ordinate their digital communications.
The university spin-out company is able to help brands and agencies to analyse all language associated with an organisation and examine how it resonates with their key audiences.
Relative Insight is based at Lancaster University's InfoLab21 and was started by Lancaster University School of Computing and Communications graduates Dr James Walkerdine and Dr Phil Greenwood. Its software is able to demonstrate whether brands are actually differentiating from their rivals in their marketing and public relations language - something that is increasingly important for business success.
The technology is also able to show whether an organisation's communications are consistent over all channels - such as websites, social media platforms like Twitter and Facebook, and even TV and radio advertising. They then use online sources to track consumer opinion, for example web forums, review sites, and video comments.
Dr Walkerdine said: "The law enforcement aspect of our business is still alive and used by police around the world, but certainly our focus is currently on developing the marketing application.
"We have built a strong relationship with Lancaster University's world-leading marketing department, which has been very supportive and has helped introduce us to a number of key agencies and brands.
"We have been very encouraged by the feedback we have received from the companies we have worked with so far and we hope to work with more interesting clients in the years to come."
Relative Insight has already secured contracts with brands and marketing agencies including Microsoft Mobile, Saatchi & Saatchi, Manning Gottlieb OMD, HavasEHS, and Ogilvy.
Dr Peter Lenney, from Lancaster University Management School's Department of Marketing, said: "The exciting technology that Relative Insight has adapted for the marketing world has the potential to revolutionise the field.
"This technology enables marketeers to really make sure their communications are co-ordinated, relevant to their target audience, and different to their competition. These are all highly advantageous elements for a brand to possess.
"It is great that the technology has been developed here at Lancaster University and we hope to be able to help further refine the marketing adaptation in the future."
Relative Insight has received significant funding from the North West Fund for Venture Capital (managed by Enterprise Ventures) to further expand their team, which now has eight employees, including graduates from Lancaster University's Marketing Department.
Fri 08 August 2014
Tweet