RSS Feeds
RSS feeds can deliver the latest InfoLab21 news and events direct to your browser without you having to visit the website.
In most browsers you can click on an RSS link and choose to subscribe to the feed to add it to your favourites or bookmarks.
---
A decade of 'Innovation, Interaction and Impact': InfoLab21 turns Ten Years Old
Story supplied by LU Press Office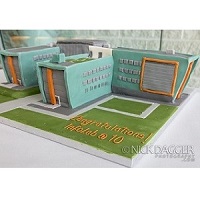 A decade of 'Innovation, Interaction and Impact' was celebrated in style at InfoLab21's tenth anniversary event on Thursday 26th February.
The landmark building houses the School of Computing and Communications and the Knowledge Business Centre.
Speaking at the 'InfoLab@10' event, former Head of Department Distinguished Professor Gordon Blair spoke about what had been achieved during the first ten years.
He referred to the level of innovation across teaching, research and administration that InfoLab had witnessed and spoke of the ground-breaking work and a 'new kind of spirit' that had emerged together with a team who problem-solved in the real world.
InfoLab was, he added, one of the best places in the world for interaction and to understand cross-disciplinary work. Its research work had real impact too.
"I always look at the next big challenge," he said. "The core message from today must be to celebrate the past but place emphasis on what is next and focus on what the next ten years will bring and the things that really matter."
Guest speakers during the afternoon event were Professor Nigel Smart from the University of Bristol on Cybersecurity – Computing on Encrypted Data, Dr Andy Hudson-Smith from UCL on Data Science and Professor Harold Thimbleby from Swansea on Digital Health.
Andrew Kane, from architectural design practice FaulknerBrowns, spoke briefly about his work and pride in designing InfoLab as an award-winning landmark workplace for business and research.
Faculty Dean Professor Mary Smyth, who gave the initial address, spoke proudly of InfoLab's achievements both in 'cutting edge research' and its impact in helping more than 1000 companies.
The celebrations featured a special InfoLab21-shaped cake.
Professor Jon Whittle, current Head of the School of Computing and Communications, said: "It is really great to have such a broad representation here from the InfoLab community - we have academics, admin staff, PhD students, undergraduates, people from across the University and outside, all coming together to celebrate this iconic building and the world-leading research that goes on inside."
Mon 02 March 2015
Tweet