RSS Feeds
RSS feeds can deliver the latest InfoLab21 news and events direct to your browser without you having to visit the website.
In most browsers you can click on an RSS link and choose to subscribe to the feed to add it to your favourites or bookmarks.
---
Partnership with EDF Energy to boost student job prospects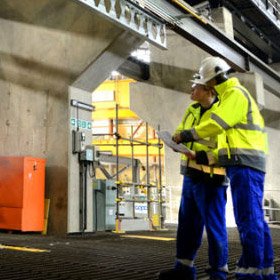 EDF Energy, one of the UK's largest electricity producers, is offering placements at its Heysham 2 nuclear power plant to students studying engineering, IT, environmental science or chemistry.
The placement opportunities have been developed by Business Partnerships Manager Martin Gilmore, Physical Sciences and Energy Lancaster, and Chris Lambert, Project Manager, Lancaster University Product Development Unit, as part of wider discussions with EDF Heysham on collaborative projects.
Energy Lancaster brings together world leading expertise in a wide range of energy related areas covering demand and supply.
As well as gaining invaluable experience alongside experienced professionals the students undertaking the placements will receive up to £15,000 salary. The placements also offer a range of experiences across different functions of the plant, as well as on specific project work.
Pam Pickles, Student Employability Manager at Lancaster University's Faculty of Science and Technology, said: "These are fantastic opportunities to gain invaluable experience in a vibrant and dynamic industry.
"It is excellent that EDF Energy recognise the importance of developing young people and equipping them with the skills and experience they need to start their careers. These placements will be a great launch-pad for our students and graduates as they enter the workforce."
Laura James, from EDF Energy, said: "It is fantastic that we are building this partnership between EDF Energy and Lancaster University as this plays an important part in our commitment to the local community. These placements offer the opportunity to spend valuable time within our organisation building skills and experience to help equip students for when they enter the workplace."
The placements are open to relevant students from all academic years, as well as recent graduates.
For more information download the EDF Energy Placement Programme flyer.
Students interested in applying should contact Pam Pickles by emailing p.pickles@lancaster.ac.uk with a cover letter & CV.Applications deadline is at 12 noon on Thursday, May 14.
The placement scheme is part of the Science and Technology Internships Programme which offers paid relevant work experience for science and technology students and recent graduates.
Businesses across all sectors are invited to explore the talent of science and technology students and recent graduates in the form of a paid internship and can register opportunities on the programme website.
Students can also register for the programme and view and apply for internships through the website.
Thu 07 May 2015
Tweet