RSS Feeds
RSS feeds can deliver the latest InfoLab21 news and events direct to your browser without you having to visit the website.
In most browsers you can click on an RSS link and choose to subscribe to the feed to add it to your favourites or bookmarks.
---
Lancaster Academics to unlock patient information to create a healthier North West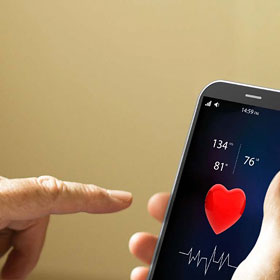 Academics from across Lancaster University are coming together on a ground-breaking £20m initiative using data and technology in revolutionary ways to improve patient care and ultimately save lives in the North of England.
The Connected Health Cities (CHC) programme – a three-year Government 'Health North' initiative - will see healthcare, academic and industry experts from across the North of England working together to help turn patient data in to meaningful information insights.
Those new insights will help deliver quicker and more effective healthcare to patients, and reduce costly unplanned hospital admissions for patients with chronic conditions with more targeted use of community care and NHS Funds.
Health and Innovation Minister Nicola Blackwood MP said: "It is fantastic to see Health North bringing data from different city regions together to benefit the patients they serve. This project could set an exciting precedent of working collaboratively across regions, with the potential to be replicated right across the country."
There are four pilot areas of CHC in the North of England with Lancaster University partnering in the £4m North West Coast Consortium, which has a focus on providing better coordinated health and social care to patients affected by alcohol misuse and chronic obstructive pulmonary disease (COPD). Lancaster's work is led by the university's Data Science Institute and brings together contributions from experts within its School of Computing and Communications, Faculty of Health and Medicine and Lancaster University Management School.
Lancaster's contribution will not only look at how the health service can benefit from its large volumes of data but also work with industry and clinicians to explore how the healthcare systems themselves, and skills of healthcare professionals, might be supported to maximise the benefits of using data more effectively.
Professor Jon Whittle, Head of Lancaster University's School of Computing and Communications, said: "As a population, we are living longer and experiencing more complex health issues. We are also inundated by data from our digitised healthcare systems. Our challenge is how to utilise this data to tackle significant health challenges.
"What is truly exciting about CHC is that we are looking at this question as a socio-technical one. Technology is only part of the solution. People are at the heart of our work with our aim being to create systems that have ease of use as their core and a healthcare workforce that are able to embrace data as a tool in everyday care."
Dr Jo Knight, Health Theme lead at Lancaster's Data Science Institute and Academic Director for Lancaster's CHC Project said: "Our project's aim is to help health and social care services use data to deliver better care for patients and communities. Lancaster University and the Data Science Institute bring a unique cross-disciplinary capability to achieve this goal. We will use that unique capability to help health professionals identify and create cutting edge solutions and we will partner with industry and the health and social care workforce to take those solutions forward into active use."
More information about North West Coast Connected Health Cities can be found by visiting http://www.innovationagencynwc.nhs.uk/connected-health-cities31 or by contacting Lancaster University's Connected Health Cities Project Lead Nick King by calling 01524 510 447 or emailing n.king@lancaster.ac.uk
Mon 03 October 2016
Tweet