RSS Feeds
RSS feeds can deliver the latest InfoLab21 news and events direct to your browser without you having to visit the website.
In most browsers you can click on an RSS link and choose to subscribe to the feed to add it to your favourites or bookmarks.
---
InfoLab21 Pro-Manchester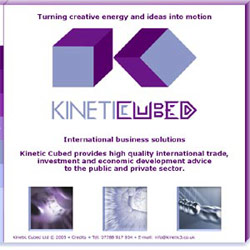 InfoLab21 Company Kinetic Cubed, who specialise in international trade and investment solutions, economic development and regeneration, are speaking at the Institute of Directors, Manchester on the 12th September on "The arrival of India in the Global Economy", organised by Pro-Manchester.
Kinetic Cubed is sponsoring the annual Pro-Manchester "Sir Howard Bernstein" talk to Manchester's professional community on the 5th October 2006. Sir Howard is the Chief Executive Officer of Manchester City Council.
For details of both events, visit http://www.pro-manchester.co.uk/events.asp?PageFlag=1&EventId=345
For more information on Kinetic Cubed, see http://www.kinetic3.co.uk/
Fri 29 September 2006
Tweet