RSS Feeds
RSS feeds can deliver the latest InfoLab21 news and events direct to your browser without you having to visit the website.
In most browsers you can click on an RSS link and choose to subscribe to the feed to add it to your favourites or bookmarks.
---
Nokia Award For InfoLab21 Students
Story supplied by LU Press Office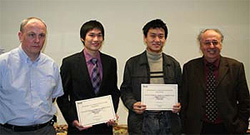 The mobile phone giant Nokia has rewarded outstanding work by four postgraduates on Lancaster University courses which are tailormade for industry.
Lancaster is one of only three universities in the UK to run MSc and undergraduate courses supported by Nokia.The global multinational works with staff in the Department of Communications Systems at InfoLab21 to influence course content, followed by the option of an extended training programme with the company which provides vital industrial experience.
Job Market Advantages
Nokia's senior specialist for Research and Development, Eric Jones, said students from these courses had an advantage in the job market.
He said: "When we get job applications from Lancaster students who've been on courses run in partnership with Nokia, we plan to fast track them. They get through the first stage of the application process quicker via an internal reference from me."
£500 Prizes
He was at InfoLab21 to present award certificates and £500 prizes to two postgraduates, Ke Sun and Liang Zhang, for distinctive course and project work with an average score of more than 70 per cent.Two other postgraduates - Kin Fung, Philip Leung and Muhammad Asif Memon - also won the award but had already returned home after finishing their studies.
Ke Sun, who did an MSc in IT and Data Communications, completed a project to allow a computer game to be played on a mobile phone.
He said: "It was really surprising to win this award from Nokia and I never expected it. I'd like to be a software developer, preferably in gaming, so now I can put this on my CV."
Liang Zhang completed an MSc in Digital Signal Processing in Communications Systems and is now on the Nokia extended training programme.
He said: "It's great, I can't believe that I've got the award."
High Standards
The Head of the Department of Communications Systems, Prof Farideh Honary, said the MSc courses run with Nokia are recognised for their high standards.
She said: "We had a positive response from the external examiners about the courses and the quality of our students so we're doing courses which are both academically very highly valued and which companies value."
Prof Costas Xydeas, the Head of the Digital Signal Process Group, said the four postgraduates had done extremely well.
"They have benefited from the University's collaboration with Nokia which is very strong. We're getting financial support and training of both students and staff and our MSc courses provide the skills which the industry wants to everybody benefits."
Wed 22 November 2006
Associated Links
Tweet