RSS Feeds
RSS feeds can deliver the latest InfoLab21 news and events direct to your browser without you having to visit the website.
In most browsers you can click on an RSS link and choose to subscribe to the feed to add it to your favourites or bookmarks.
---
eBusiness UK Celebrates Award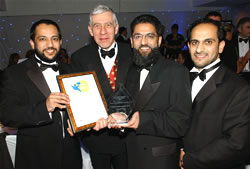 InfoLab21 Associate Company eBusiness UK is celebrating after being voted the top IT and Digital Media company in Lancashire.
The much-coveted prize is extra special for the Blackburn company, capping a fantastic year which has seen business bloom and the launch of its first franchise in Edinburgh.
The award was presented at a glittering black-tie dinner organised by the Lancashire Telegraph. TV personality Diane Oxberry fronted the awards ceremony, and Lord High Chancellor Jack Straw was in the audience and took time out to congratulate the Directors of eBusiness UK.
Kevin Young, editor of the Lancashire Telegraph, said that eBusiness UK had stood out amongst the 15 nominees at an early stage, and that the company was very deserving of the award.
"The 'e' in eBusiness could easily stand for 'excellent'," said Kevin. "The quality of entrants this year was higher than ever."
"We are absolutely delighted to have won," said managing director Kam Kothia.
"This award is great for the company, and great for all the staff."
Kam added: "We would also like to say a big thank you to all our customers who have supported us. Our philosophy is to help each and every one of our customers achieve their business objectives. This underlines everything we believe in, and clearly it works as our customers keep coming back. This is what keeps us going"
Mon 26 November 2007
Tweet