RSS Feeds
RSS feeds can deliver the latest InfoLab21 news and events direct to your browser without you having to visit the website.
In most browsers you can click on an RSS link and choose to subscribe to the feed to add it to your favourites or bookmarks.
---
Associate Company Wins Prestigious Export Award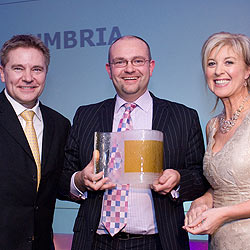 InfoLab21 associate company Penrillian has won a prestigious regional export award following international growth of their business and creation of new jobs.
Penrillian, a mobile phone software company from Penrith, won the Cumbria sub-regional North West Passport to Export Award 2007 in recognition of their achievements in the export market following participation in the UK Trade & Investment (UKTI) Passport to Export programme.
The award was one of five county awards given to companies across the North West who have shown considerable progress in growing their international business.
Since joining Passport to Export, Penrillian has seen its turnover increase by 50% over 18 months with a quarter of this revenue coming from international markets.
In the last 6 months alone the company have received £140,000 of export orders and have employed a Marketing Manager and 5 new software developers as a result.
Managing Director Charles Weir says,
"We are delighted to win this award. Penrillian has received a great deal of advice from our UKTI advisor who is helping us develop further partnerships, and we are now well on our way to increasing our international sales even further."
"Working with UKTI helped us to analyse what we were really good at and where our strengths lay. The Passport to Export scheme helped us realise that we work best when we have lots of customer interaction, and made it clear that we should focus our efforts on finding business in European countries and those with a similar time zone to us, rather than waste time trying to break into the west coast of America.
"Penrillian is now actively targeting the European market. This month we went to The Mobile World Congress, the largest industry conference for the telecoms industry, and last year we became a porting partner with Sweden-based UIQ, the major platform supplier to Sony Ericsson and Motorola."
Clive Drinkwater, UKTI's North West Regional Director, says:
"Every year we face a difficult decision in choosing the companies who have made the most of the help and advice they received on the Passport to Export scheme. Penrillian has made excellent progress with their overseas trade this year and we congratulate them on their considerable achievements and hope they will continue to go from strength to strength in the future. "
Mon 03 March 2008
Associated Links
Tweet