RSS Feeds
RSS feeds can deliver the latest InfoLab21 news and events direct to your browser without you having to visit the website.
In most browsers you can click on an RSS link and choose to subscribe to the feed to add it to your favourites or bookmarks.
---
First Prize for Mobile Phone Developers
Story supplied by LU Press Office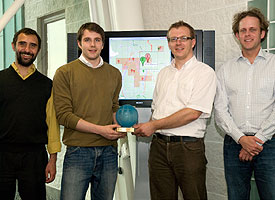 A system developed by Lancaster University's Computing Department and NTT DoCoMo Euro-Labs was one of the winners in a competition held at the 2nd European NFC developers summit in Monaco.
The project uses Near Field Communication (NFC) technology to allow mobile phone handsets and public information screens to share display space, overcoming the screen size limitations of mobile phone displays.
Robert Hardy and Enrico Rukzio from the Computing Department at InfoLab21 and Matthias Wagner and Massimo Paolucci from NTT DoCoMo Euro-Labs won first place in the research track and The Most Innovative NFC Research Project of the Year 2008.
The winners were selected from a total of 20 finalists and over 50 entries from 21 countries.
Mon 12 May 2008
Associated Links
NFC Forum - a non-profit industry association that promotes the use of NFC short-range wireless interaction in consumer electronics, mobile devices and PCs
Tweet