RSS Feeds
RSS feeds can deliver the latest InfoLab21 news and events direct to your browser without you having to visit the website.
In most browsers you can click on an RSS link and choose to subscribe to the feed to add it to your favourites or bookmarks.
---
InfoLab21 Graduate and Student Academy Awards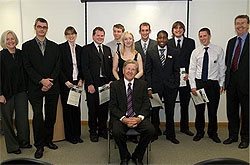 An awards event to celebrate the successes of the InfoLab21 Graduate Academy and the InfoLab21 Student Academy took place last month.
The event brought together businesses that had benefited from the Academies, InfoLab21 staff and past and present members of the academies.
Academy members were presented with certificates by the Vice Chancellor, Professor Paul Wellings.
A special award was given to student Kate Lund for her work with Associate Company, Rinicom.
IGA Project Manager Sarah Bennett says,
"We aim to build on the knowledge the graduates have gained throughout their degree, providing on the job and formal training alongside mentor support. All the work the graduates undertake is for small businesses throughout the region. The graduate works with the client to identify their IT needs, formulate requirements and develop a technical solution to be implemented within the business.
"We aim to provide a development opportunity that will result in a very employable IT graduate who can then gain employment in the regional IT sector."
Graduate Adam Rowntree was among those returning to InfoLab21 for the ceremony. Reflecting on his internship he said,
"The environment within the KBC office is fast-paced, friendly and supportive. Everyone is happy to share their knowledge, and working together as a team has helped us to deliver some amazing projects to companies."
Further comments from the graduates about their experiences are available on their profiles - please see the links below. You can also view testimonials from assisted companies in our list of case studies.
The awards event has been documented in our new gallery section which we hope to expand on in the future, please see the link below.
Mon 20 October 2008
Tweet