RSS Feeds
RSS feeds can deliver the latest InfoLab21 news and events direct to your browser without you having to visit the website.
In most browsers you can click on an RSS link and choose to subscribe to the feed to add it to your favourites or bookmarks.
---
Mumbai Office For Resident Company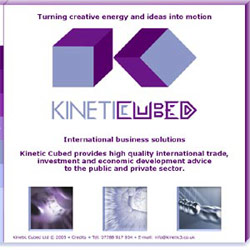 Kinetic Cubed, specialist business development consultancy, has expanded its presence in India by opening an office in the central business district of Mumbai, adding to its existing presence in New Delhi.
The expansion has been fuelled by Kinetic Cubed's growth in winning clients across Europe, helping them connect to business opportunities in these emerging high growth markets. Because of this, the company is expecting to buck the downturn and is forecast to grow 50% on last year.
Tony Aggarwal, Director of Kinetic Cubed, signed the office deal last month whilst taking part in a delegation of senior business leaders to India, led by Peter Mandelson, the Business Minister.
Tony said his participation in the delegation "is recognition that Kinetic Cubed, although only being a 'pocket multi-national', is of sufficient stature that it is part of a delegation which includes CEOs/Chairs of FTSE 100 companies".
Kinetic Cubed is a fast growing consulting company located in InfoLab21, with a network of partners in the emerging markets.
Clients include a mixture of private sector organisations and public sector clients, seeking advice on global trends and access to decision makers.
Fri 13 February 2009
Associated Links
Tweet