RSS Feeds
RSS feeds can deliver the latest InfoLab21 news and events direct to your browser without you having to visit the website.
In most browsers you can click on an RSS link and choose to subscribe to the feed to add it to your favourites or bookmarks.
---
New Technologies Showcased At Innovate 2009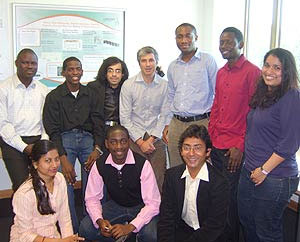 InfoLab21 postgraduate students showcased their latest research and technologies at this year's annual Innovate Show.
The students, from the Communication Systems Department, held a poster exhibition where visitors could come and talk to each student and find out about their areas of research.
Poster topics covered;
Developing Flash Lite applications for mobile e-learning
3D games for mobile phones
A course materials widget for Virtual Learning Environments
Space weather prediction for transpolar airlines,
Tools to help improve the analysis of cervical scans
Setup and deployment of production facilitates for online television programming
Technology to support lone workers
The Innovate show was well received by InfoLab21 associate companies and partners as well as other researchers from across the University.
Dr. Phil Benachour from the Communication Systems Department said, "We were very pleased with the turnout for the Innovate Show. The students felt that they benefited from explaining their ideas in this way. The event was also an ideal chance for researchers and business people to meet each other and share ideas, possibly identifying opportunities for collaboration in the future."
Tue 15 September 2009
Tweet