RSS Feeds
RSS feeds can deliver the latest InfoLab21 news and events direct to your browser without you having to visit the website.
In most browsers you can click on an RSS link and choose to subscribe to the feed to add it to your favourites or bookmarks.
---
UK First For InfoLab21's ICT Focus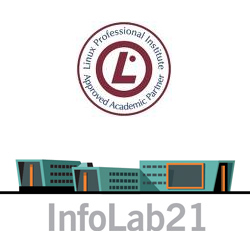 ICT Focus has become the first UK Academic Approved Training Partner to deliver Linux Professional Institute (LPI) Certification courses.
ICT Focus is InfoLab21's training and education unit which offers first class advanced technical training for industry.
Head of ICT Focus, Rachel Fligelstone commented;
"We are delighted to be able to work with LPI and to offer this Certification to our customers and to students at Lancaster University.
"LPI is widely recognised across the ICT industry, and is committed to the development of a world-wide standard in Linux Certification that is both distribution-neutral and vendor independent."
The first course, LPIC-1 Level 1 Linux Professional, is running 16th-20th November. Further information.
Other courses coming up at ICT Focus
Don't forget to state if you are an Associate Company of InfoLab21 as you may qualify for a discount!
23-27 November 2009
MS6425: Configuring and Troubleshooting Windows Server 2008 Active Directory Services.
Price £650.00
3-4 December 2009
PRINCE2 Practitioner Course (for those who already have PRINCE2 Foundation Certification). Price £375.00
8-10 December 2009
MS3938 Updating your skills from Microsoft Exchange 2000 or 2003 to Exchange 2007.
Price £450.00
Please look out for future editions of InfoTextX for news about our new BCS Green IT Certification.
Mon 26 October 2009
Tweet