RSS Feeds
RSS feeds can deliver the latest InfoLab21 news and events direct to your browser without you having to visit the website.
In most browsers you can click on an RSS link and choose to subscribe to the feed to add it to your favourites or bookmarks.
---
School Children Get A Taste For Web Design At InfoLab21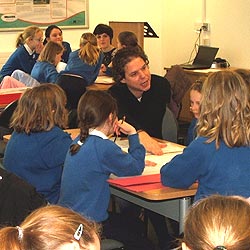 Cutting edge web design is the hot topic of the day for children at Arkholme C of E Primary School following a recent visit to NuBlue Digital Solutions, based at InfoLab21.
Top designers from NuBlue, an award-winning web design and hosting agency, showed a class of Years 5 and 6 children how websites are designed and brought to life. Mike Ashworth, NuBlue Creative Director, challenged the children to work in groups and design their own one page website for an eco-friendly electric car. The best design was chosen to be made into a site for the winning team.
Teacher Graham Brough said, "The children very much enjoyed the morning, they got a lot from this experience and they have been talking of little else since."
The school were given an added surprise at the end of the visit when NuBlue presented them with a new sponsored football kit in the school and company colours.
Here's what some of the children thought of their visit:
"Thank you so much for letting us come to your work environment. I enjoyed it very much. My favourite bits were designing our own webpage and looking at the code for the websites. I think your workplace is very high tech and looks very modern. Thanks a lot for letting us come I hope we can come again." Oliver
"I would like to tell you that you are very lucky, not many people get to experience so much high tech stuff. I would love to be working in such an amazing building." Scarlet
"It was really interesting to learn about how you make websites and host them. I think it was a great idea to let us design our own website. It was great fun. Thank you as well for the new football kit and captain armband! They are really nice!" Julia
NuBlue's Agency Manager Rob Ellis said "We really enjoyed having them here and have invited them back to continue our links with them."
Wed 17 February 2010
Associated Links
NuBlue - Business Hosting, Web Development & Marketing
Tweet