RSS Feeds
RSS feeds can deliver the latest InfoLab21 news and events direct to your browser without you having to visit the website.
In most browsers you can click on an RSS link and choose to subscribe to the feed to add it to your favourites or bookmarks.
---
Praise For Student and Graduate Impact on Businesses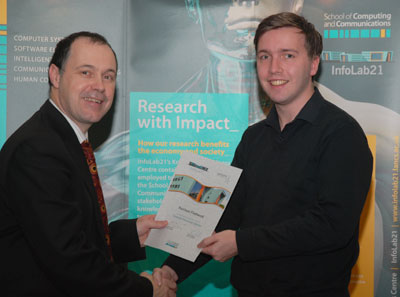 Vice-Chancellor Professor Mark Smith has praised the impact that students and graduates in InfoLab21 are having on local and regional businesses.
During a special celebration on November 20th held to recognise the achievements of the InfoLab21 Graduate and Student Academies (IGA and ISA) and the summer placement scheme, he spoke about the importance of industrial experience to students entering the job market:
"I am delighted to see such valuable work coming out of these schemes. 94% of our graduates go in to work or further study within six months of graduating and they are highly regarded by employers around the world. These academies and the support of the businesses are giving our students invaluable experience which will help their career prospects. They are also an example of the close relationship that the University and its local business community have built."
The Vice-Chancellor presented certificates to students and graduates involved in the programmes. Certificates were also presented to businesses that have been recognised for a special level of collaboration in these schemes.
The Graduate Academy was launched in 2007 to provide ICT assistance for small to medium sized businesses in the North West. The Student Academy runs alongside this helping to deliver projects to businesses in the region and allowing students from the School of Computing and Communications to gain valuable experience working with businesses. In some cases this has resulted in a full time employment for the student on completion of their degree.
In addition to this, a new Summer Placement Scheme was piloted this summer which placed over 20 students with businesses, or within the Student Academy, for 8 weeks paid employment over the summer. Following positive feedback from both the companies and the students, the Summer Placement Scheme is now open for applications for 2013.
Director of the Knowledge Business Centre, Steve Riches said:
"The Academies are a flexible and diverse delivery capability for InfoLab21's business support projects and provide a framework for our graduates and students to get vital relevant work experience to enable them to move more quickly onto their chosen career paths. This model also exposes companies to the calibre and ability of these young people enhancing both their employability and the reputation of the University."
Speakers at the event included students and graduates from the academies showcasing the work that they have been doing. The event also recognised the impact on businesses of the HighWire Doctoral Training Centre and case studies were presented by two HighWire students.
Thu 06 December 2012
Tweet